3D Printed PSU Speaker Grill Panel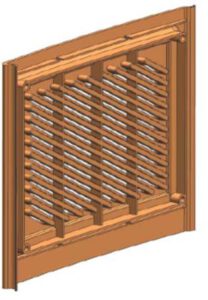 Part was no longer available from OEM
No tooling required thus reducing lead times.
Costs reduced due to low NRC's
Efficient for small volume production
Part required EASA Form 1
End User
Airline needed a solution to replace speaker grill with identical parts cost effectively.
DOA
DOA to be appointed and project managed by TEG
Delivery Time
10 days from receipt of original part from Airline.
Customer feedback
Airline approached TEG because we could provide a turnkey solution. TEG has all capabilities in house to scan the original component and software to create the dataset to be printed and EASA Part 21(G) Approval to allow part to released with an EASA Form 1.