Metallic Structural Parts – Part No. 183N1316
TEG has recently been contacted by a number of Airlines, MRO's and Lessors requiring AOG support to aircraft for Metallic structural parts to be manufactured in a timely manner so as not to delay the aircraft's exit from C-Check. Therefore with an increased number of aircraft entering into annual checks we thought we would remind all of how TEG can provide support on these occasions.
One example of these parts is this Boeing 757 Item, Part No183N1316 shown below:-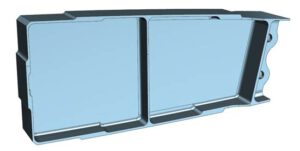 Problem Description:-
Airline had an urgent requirement for the above complex machining to be manufactured and delivered in a timely basis.
Legacy part no longer supported by OEM.
Boeing supplied SMAL to airline to aid manufacture of part.
All surface treatments and inspections managed by TEG.
Manufactured part supplied to airline with an EASA Form 1.
DOA:-
DOA appointed and project managed by TEG.
Delivery Time:-
Beat target delivery time requested by airline.
Customer Feedback:-
TEG is the airlines first point of contact for any metallic structural parts that need to be machined, as they know we understand AOG requirements of an airline.
If you would like TEG to support your airline with a solution for any parts featured in our case studies or any other parts, please contact Phil Beard at E-Mail pbeard@teg.com so that we can discuss your requirements. If you've any AOG requirement please E-Mail AOG@teg.com