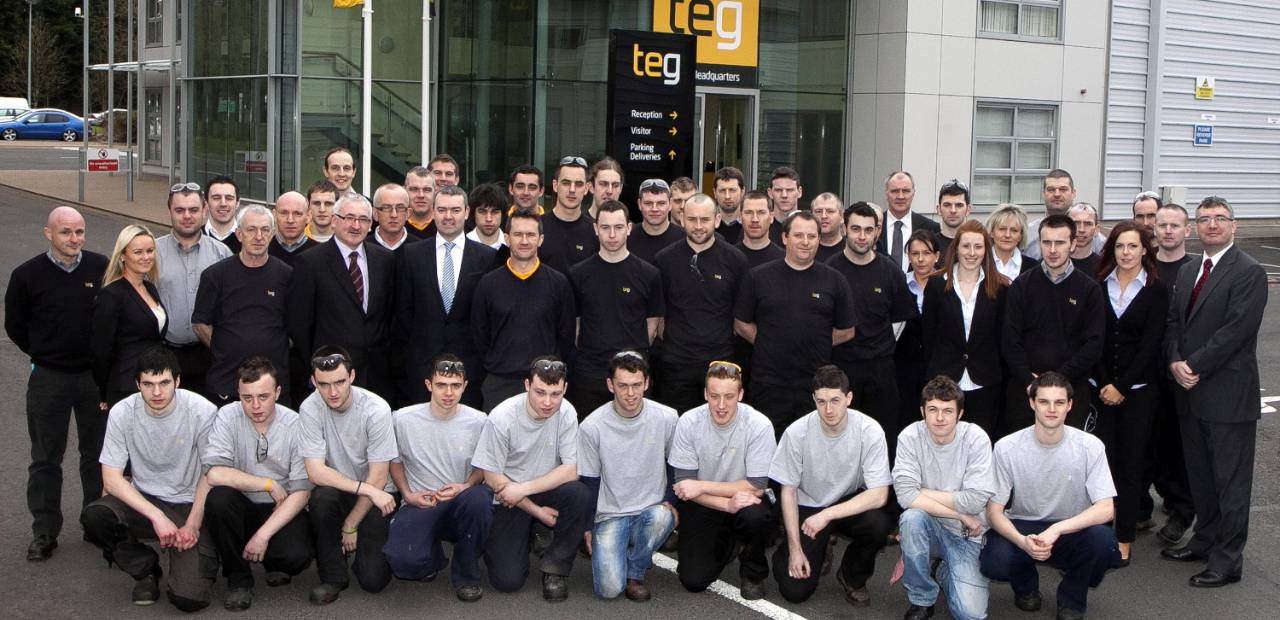 TEG was established in 2001 to service the needs of the pharmaceutical industry in Ireland. A strong work ethic and responsive service was recognised by customers in Ireland. Over the next 3-4 years, TEG became an approved vendor to all the pharmaceutical sites in Ireland. Introductions were made by satisfied Irish customers to colleagues in overseas sites of the same company. In 2006 TEG started exporting – initially to Germany and since then to over 35 countries.
The shareholders of TEG have never taken a dividend from the business since its establishment. Instead the focus has been on expanding the range of engineering capabilities available to meet customer needs. TEG is now a fully integrated engineering services company with state of the art equipment, software and highly trained people working to provide the best in class designs and product to a growing customer base.
TEG continues to grow, employing
120 people

in two facilities totalling

66,000 sq. ft.

on 3 acres of land. The team is proud to provide critical engineering support to customers
Our culture
At TEG we set high standards of performance and are guided by the following Values. Our decisions and actions demonstrate these values. We believe that putting our values into practice creates long term benefits for TEG customers, employees, suppliers and the communities we serve.
Values
We apply the highest standards to ensure the safety and health of our staff, our customers and the local communities in which we operate.
Behaviours
We will protect our people, our customers and the environment at all times.
Values
What we do is what matters, not what we say or think or plan.
Behaviours
Hard work, smart work, frugality and diligence are our characteristics in TEG.
Flexibility / Adaptability
Values
The historical and future growth of the company is based upon the high flexibility and adaptability of the TEG team.
Behaviours
We are responsive to our customer's requirements and continually learn from experience.
Values
We are only as good as the commitments we meet.
Behaviours
Commitments are meaningless unless we deliver on them.
Values
The best solutions come from working together with colleagues and customers. Effective teamwork requires relationships, respect and sharing.
Behaviours
We are cohesive, motivated and forward looking. We tell the truth and trust each other.
Values
Our commitment to quality is the foundation of our company.
Behaviours
We work hard to ensure good quality product and service to our own individual customers, both internal and external.
Meet our team of professionals
The team at TEG are the driving force behind our success to date. Follow the link to meet some of our sales team and you can get in touch with them directly to discuss your project needs.
Meet The Team
Here at TEG we value our people
When you join us, you are joining an amazing team at all levels and get the opportunity to work on some truly fantastic projects in our state-of-the-art facility. View some of the opportunities we have available and take your first steps towards a career with TEG.
Careers at TEG