Modular Wash Rack Design for Maximum Washer Utilisation.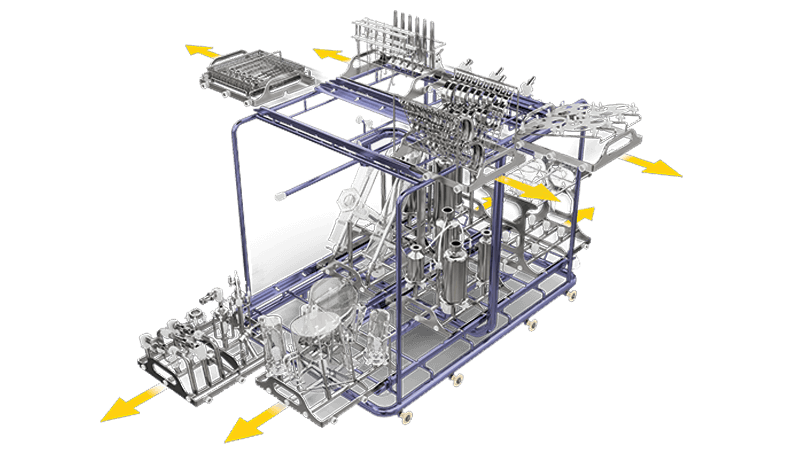 The Objective
A Large Biopharmaceutical customer had several existing wash racks for their parts washing machine. They calculated that they were only loading the machine to 30% of its capacity every load. This was mainly because the existing OEM racks were rigid in their design and had fixed positions for all parts. If a part was not available on a particular day the load would still be ran. Sometimes an individual part needed to be washed and the only way to do it was to run the full cycle with this one part on a rack. This was hugely inefficient and expensive as each cycle consumed up to 1000L of Water for Injection (WFI) and detergent.
The Approach
TEG understood immediately that the key was flexibility. But that every part having a fixed wash location was still very important for operations and for validation purposes. So with over 400 parts to consider and loads to optimise TEG went onsite and 3D laser scanned and modelled up all of the customer's parts, identified the quantities and likely groupings. With this information we set out to design a rigid and flexible washing rack system.
The Results
Modules! Each 'Main Rack' contained interchangeable modules ('Sub Racks') and accessories that washed a specific group of parts. These Sub racks and accessories were easily rolled on and off the main rack to allow the customer to tailor the load to their needs on a given day.
To achieve this, TEG developed all of the designs for these modules and performed a Computation Fluid Dynamic simulation of all sub racks to ensure that they all consumed the same volume of water at the same pressure, thus ensuring repeatable performance from all racks on every load configuration.
This system enabled our customer to reach an average of 94% utilisation of the washer racks, reducing the number of wash cycles ran per week and saving thousands of dollars per day on WFI and Detergents.
Another benefit to the customer is that for any additional parts that may be added in the future is easily introduced with a new interchangeable accessory.